We seen some awesome fanmade things pop up in 2008. Machinima and AMVs', were at an all-time high, but I've found the ABSOLUTE best of them all. This one definitely is going in my 2008 jewel bag.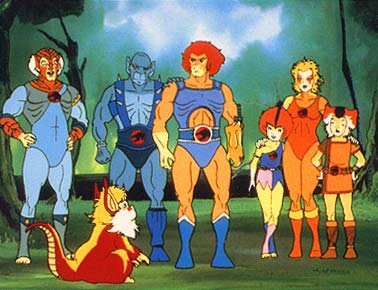 Who's not familiar with the Thundercats? It was a very popular cartoon that debuted in 1985 about a handful of half feline, half human warriors that escaped from their dieing planet and were trying to survive on a new one. They each had special abilities that make them great, such as a whip-whielder who could turn invisible and staff expert who could run extremely fast. It's been announced that a CGI-animated feature film is in the works and due for a summer 2010 release and every geek from here to Saskatewan will probably we watching it.

A fellow fan of the show could not wait for an official trailer of the Thundercats movie, so he made is own and it's been blowing minds since it's debut. I could not think of a better way to kick off 2009 other than with this fanmade greatness. You'll probably recognize some the actors and scenes from other movies that have nothing to do with each other, but when brought together like this, I can only hope the official trailer gets me as excited, if not more, than this fake one has. Get your wetnaps ready and enjoy!







Labels: Douces-Jewels, Douceswild, Thundercats, trailer